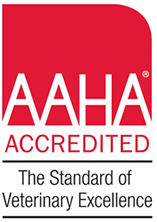 At Brighton Greens Veterinary Hospital are committed to offering compassionate, progressive and high quality small animal care. We stay abreast of new developments in our field, and refer our patients to specialists as needed. We strive to educate our clients in preventative care as well as in the specifics of their pet's ailment. We are efficient with our client's resources, and work with them to explore treatment and financial options. We support our local animal shelter by participating in their annual low cost spay neuter program, by offering free first time exams to adopted pets, and by providing discounted medical care to shelter animals.
Brighton Greens Veterinary Hospital is proud to be accredited by the American Animal Hospital Association (AAHA).  Only 15% of veterinary hospitals in the US and Canada are accredited. We achieved this accreditation by undergoing regular evaluations by the AAHA to ensure our compliance with veterinary care standards- which means your pet is receiving the best possible care using the latest procedures and technology.
Monday:        8:00am - 5:30pm
Tuesday:        8:00am - 5:30pm 
Wednesday:  8:00am - 5:30pm
Thursday:      8:00am - 5:30pm
Friday:            8:00am - 5:30pm
Saturday:       9:00am - 2:00pm
Sunday:         Closed
Brighton Greens Veterinary Hospital
996 McCourtney Road Suite A
Grass Valley, CA 95949
Phone: (530)477-6863
Fax: (530)477-1305
Email: BrightonGreensVet@gmail.com
Call Marqueen Pet Emergency 916-757-6600, Loomis Basin 916-652-5816 or Animal Medical Center 530-823-5166 for after hours emergencies.