Hello Brighton Greens family. So many exciting things have been happening at Brighton Greens recently. Where should I start? First and foremost, we have recently added a new veterinarian to our staff. Her name is Dr. Robin Janeway, and she is such a great addition to our crew. She is available to see patients Monday, Tuesday and Wednesday. Check out her full bio below by clicking on the image: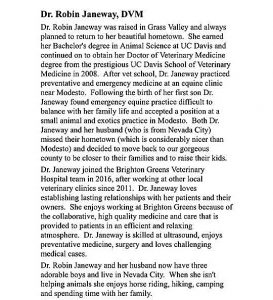 Dr. Susan Smith is seeing appointments Thursday, Friday, and Saturday.
Another exciting addition to the hospital is a digital dental radiology machine. This is a great diagnostic tool and will increase the efficiency of our dental cleanings. Digital x-rays give the doctor an instantaneous image of the teeth that they can use to diagnose many different dental maladies. Like all of our other dental equipment, this machine is identical to one used in a human dental office. Check out the image below of a premolar with broken roots. OUCH!!! Something like this may not be detectable on physical exam. (photo courtesy of njveterinaryblog.com).
February is National Pet Dental Health Month. When was the last time your pet had a dental exam? Signs of dental disease include gingivitis, bad breath, changes in eating patterns, changes in playing with toys, and discolored teeth. Did you know that we offer FREE appointments with our technicians to get dental estimates? If you think something may be going on in your pets mouth give us a call and let us take a look.
The third thing is that our Saturday schedule has changed. We are open Saturday from 9-2 and we see appointments continuously during that time. We hope that this provides some you some scheduling flexibility and accommodates your busy schedule. Saturday appointments fill up quickly so call a few days ahead to book your appointment.
As always, we are here to help you take the best care of your pet. Give us a call anytime and let us know how we can help.