March 20-26, 2017 in National Pet Poisoning Prevention week.
With your help we compiled a list on our Facebook page of the most common compounds that are poisonous and toxic to our animal friends. Here is the list in it's entirety. (If you have personal experience with any of these toxins/poisons please leave a comment on this blog, we'd love to hear from you!)
Antifreeze
Marijuana
Rat bait
Permethrins (Topical Insecticide)
Wine
Ivermectin (dog ate horse wormer)
Mushrooms
Compost
Chocolate
Palm plant
Cocoa husk
Avocado
Snail Bait
Xylitol
Onions & Garlic
Raw Fish
Prescription Medication**the number 1 call to poison control
We've linked most of these toxins and poisons to articles describing their symptoms and in some cases, treatment.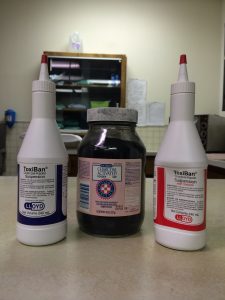 If you'd like to read something a little more technical with some interesting case studies, check out this article from Veterinary Technician magazine.
As always, is you suspect your pet has ingested a poisonous or toxic substance please call us at 530-477-6863 or call ASPCA Poison Control Hotline at 888-426-4435